Patrimony and culture
Rejoignez vos amis/votre famille en achetant un passage télécabine, et profiter de la vue panoramique et ensoleillée depuis le terrasse du restaurant de la Rossa ou de la superbe vue sur le domaine skiable depuis la terrasse de la salle hors-sac.


Sinon, pourquoi ne pas essayer une des activités de la rubrique "activités hors glisse" : balade en traîneaux à chiens, balades à pieds ou raquettes, centre aqualudique...
Espace Glacialis
Located at Champagny le Haut (accessible by free shuttle), in the hamlet of "le Bois", discover this museum space including 200m² of exhibitions dedicated to the theme of mountain glaciers: the scientific, geological, historical and mythological aspects through multiple tools : audio-visual, photographs, maps, models, objects to touch ...
The Glacialis Space is a place of discovery learning, fun and modern: two films are presented. One of the glaciers of the Vanoise, the other on the ice cavities.
Entrance: 2€/adult 1,50€/child (6 to 13 years old)
Guided tour "Echo of glaciers", Thursdays from 10am to 11.30am (reservation at Glacialis or Champagny en Vanoise tourist office )
4€/adult 2€/child (6 to 13 years old)
The Saint Sigismond baroque church & stroll streets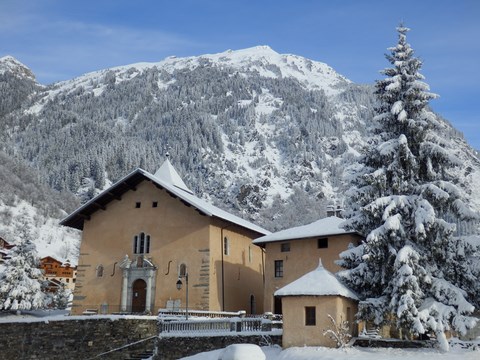 With a guide, discover the history of Champagny through a ride and the splendor of Baroque art, Saint Sigsimond church steeple like "Tower of Pisa".
An altarpiece in 1710 by Jacques Clérant & Jean-Baptiste Gualaz and not requiring less than one hundred fully gilded cherubs.
Framed between two columns mixed with caryatids, in the center of the altarpiece, a high relief evokes the Virgin Assumption contemplated by Saint Sigismund and martyr Virgin: the sculpture is a virtuosity of movement and the execution details. On the entablature, angels have acrobatic positions.
In the nave is also an altarpiece of the Rosary in 1662 and attributed to François Cuénot from Chambéry.

Cinema
The cinema "Rhodo" welcomes you to his room seats 170 for a rich and diverse programming;
Digital sound. Films every day (except Saturday) at 6pm & 9pm. Extra screening at 3pm in case of bad weather.
7;50€/adult 4€/child (less 14 years old) 60€/10 entrances card
Library
Open Monday, Friday from 6pm to 7pm and Wednesday from 10am to 11:30am. Free loan of books, deposit of 50 €.
Very large selection of books and magazines.
New at the library: graphic novel, manga for young and audiobooks.