Champagny en Vanoise nordic area
Cross country slopes
The nordic area of Champagny the Haut has 23km of tracks maintained for the lovers of "classic" or " skating " on which are arranged 22 thematic borders along tracks:

Champ du Pont (2km2): track for beginners. A single rise and of big pins in snowfields.


Le Rosay (5km): very "rolling" track on the plateau at the foot of the south slopes Closeness of wooden and stony hamlets


Canada (5km):"natural" track near Doron, river of the valley. Wooded passages and hilly profile


Pierra-Neva (2km2): track in the shape of "S" in front of hamlet of Chiserette


Laisonnay (8km): track of discovery of the bottom of valley. Decorated with points "picnic" to take advantage at the most of the magic surroundings.


la Chapelle (1km) : downward Track variant of the black ski run " Laisonnay ". It overhangs the hamlet of Friburge. Technical passages in descent. A delight for the skiers looking for a few strong sensations

Nordic Parc: Playful areareserved for the cross-country skiers and dedicated to the learning of the technique classic as that of skating. Specific arrangements allow each to develop the capacities: glide, jump and slalom.
Since the rent les Sureaux, distant of 5km (equipment special often recommended) or possible access on the site, by free shuttle.
The French Nordic label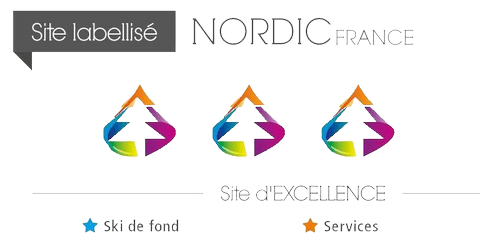 The global quality of a nordic site is symbolized by small multicolored fir trees which are spread out from 1 to 5. Furthermore, excellent levels, indicated by a star, apply to 4 commitments on the quality of the domain of nordic cross-country skiing, the diversity of the activities, the quality of the services and the sustainable development.
The site of Champagny le Haut is certified "3 nordiques" about:

The quality of the Scandinavian domain:
Diversity of the network and maintenance of tracks marking
packing down and drawing
the security and the help

The quality of the services:
Access, welcome and information
the possibilities of parking
lot the modes of teaching and accompaniment proposed
Cross-country prices
Cards are for sale in the chalet of cross-country skiing which is situated in the hamlet le Bois.
Free for least than 6 years and 1/2 price rate for more than 72 years
1/2 day (9am to 1pm or 3pm to 5pm) : 7.50€
Day: 8.50€/adult 5,70€/child (6 to 16 years old)
Weekly card: 32€/adult 17.50€/child
Champagny season card: 55€
Departemental Nordic Pass
122€/adult Teenager (6 to 16 years old): 41€
Regional Nordic Pass régional
152€/adult Teenager (6 to 16 years old): 47€
Nordic Pass national
210€/adult Teenager (6 to 16 years old): 70€