Activities (except ski)
Snowshoes and walks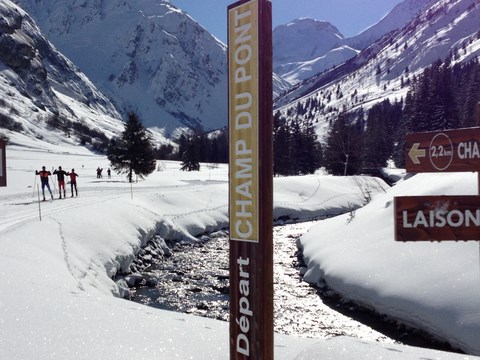 The itineraries are marked but ungroomed and unprepared. They are drawn only by successive passages of walkers. The walk conditions can vary depending on snow conditions. The use of snowshoes and sticks may be necessary.
If you have a dog, beware, some itineraries are not accessible.

Good to know: no sports shops for equipment rental at Champagny le Haut.
Free shuttles provide easy access to the valley of Champagny le Haut
Departure from Champagny village
Walks or snowshoes walks depending of the snow cover:
Les Dodes tour (2km100 - vertical drop of 139m - walking time: 1:15)
Departure from the hamlet le Planay, climb in the forest along the Doron "le Remou", then cross the hamlet of les Dodes (alt. 1380m).
And down to the hamlet of laTraye (be careful crossing the Alpine skiing: skiers have priority) and arrival to the departure of the gondola.
Liotraz itinerary (3km600 - vertical drop of 202m - walking time: 1:30)
Departure at the bridge of les Chailles, mounted on a wide forest trail to a platform. Very nice view over the village. Return by the same way.
Le Châtelard (2km900 - vertical drop of 285m - walking time: 2:30)
Departure from Villard, clim in the forest by a small path till the hamlet of Châtealrd. The hamlet consists of old sheep pen, now renovated. Splendid views over Courchevel and Pralognan la Vanoise. Return by the same path or possible variant with arrival on the Hauts de Planchamp.
Snowshoes walks:
La Rossa itinerary to Roc des Blanchets (1km400 - vertical drop of 124m - walking time: 1:30)


Accessible by gondola. Itinerary at 2000 metres high, between the "Rossa" and the "Roc des Blanchets", with specific markings off the slopes.
Remarkable view of the glaciers of the Vanoise.
Not to practice after a significant snowfall or fog.
Departure from Champagny le Haut
Walks and/or snowshoes walks:
Evetta (1km - vertical drop of 15m - walking time: 25mn)
Easy walk from the "Chiserette" hamlet to "le Bois" hamlet or ou vice versa.
Les Chardes itinerary (6km return - vertical drop of 100m - walking time: 2:30)


Departure from the hamlet "le Bois" along the cross country slope and the river. Itinerary marked by 7 thematic panels (fauna, geology ...)
Snowshoes walks:
Comba Damon itinerary (1km800 - vertical drop of 20m - walkming time: 45mn)
Itinirery connecting the departure of the cross country slopes "le Bois" to "la Couaz". Nature route under the pine trees, streams, the hamlet of Chiserette. Can be done in the other way around..
Taillette tour (1km900 - vertical drop of 170m - walking time: 1:30)
Itinerary climb in the "Taillette" forest, North side of the valley. Sporting descent (reserved for seasoned people) through the same wood
Epéna itinerary (7km - vertical drop of 100m - walking time: 2:45)


Itinerary along the river to the hamlet "Laisonnay-d'en-Haut". Be careful, the return way is: 2 x 3,5 km.
Teppes itinerary (1km400 - vertical drop of 100m - walking time: 1h)
Way south side return, leading hamlet Teppes. Lovely view over the valley of Champagny-le-Haut.
CAUTION: Do not walk beyond the end of this itinerary: many avalanche slides!!!
Swimming pool and SPA area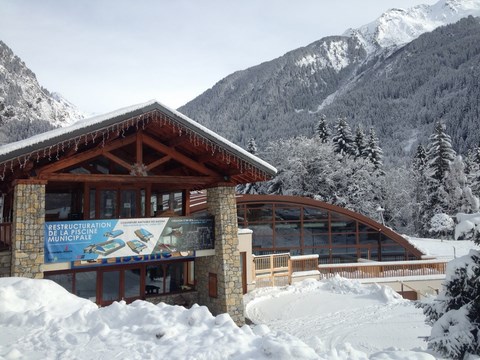 Open everyday from 22/12 au 27/04/19 from 2:30 to 8pm

SWIMMING POOL covered and heated, with a pool divided into two parts:
a playful, deepening pool for children and water games.
Two water lines of 25 meters: for swimmers.
A separate children's pool for the smallest children to swim safely.

250sq.m of SPA AREA & Relaxation with 2 saunas, a hamman, a spa with hot and cold baths and a large relaxation lounge with showers experience. Care area: beauty and relaxation massage.
Dog sledde
A magical experience for an unforgettable vacation!

Mickaël, professional musher makes you share his passion with a ride in a dog sledge, you will discover the beautiful landscapes of Champagny le Haut.

Activities of approximately 30 minutes, twice a week, with reservations required at the Tourist Office of Champagny en Vanoise.

50€/adult 30€/child (- 13 yers old) 16€/child (aged from 6 to 3 years old)
Climb on the Ice Tower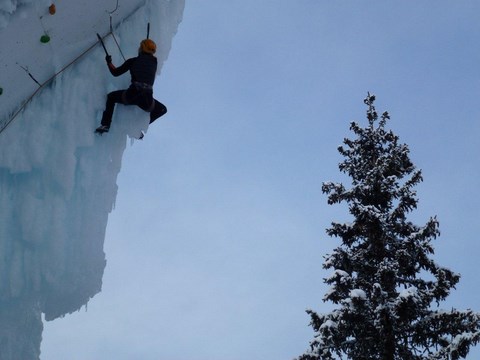 Introduction to ice climbing with a guide, on an artificial structure of 22m:
unique in Europe!

This structure also serves to prestigious international races.
2 hours of thrills, accessible for everyone.

45€ / person including guidance with a guide and equipment loan (minimum size 38)
Paragliding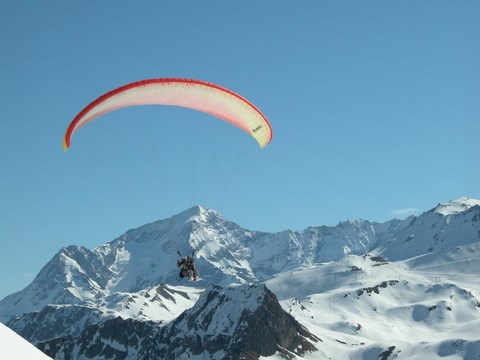 Discover breathtaking landscapes with the pleasure of a two-seater flight over the glaciers of the Vanoise. Paragliding is accessible to all, takeoff is done on skis.
Various types of baptisms function of altitude and flight duration desired by the passenger.
Dicovery flight:
650 vertical meters, 8 to 10 minutes flight*, takeoff Verdons Sud with a landing at the Champagny stadium slalom: 70 €
Big Flight:
Come and discover an exceptional panorama, overview slope of "Mont de la Guerre", facing the most beautiful peaks of the Vanoise (Grande Casse, Grand Bec).
1300 vertical meters, 20 to 30 minutes flight *, landing in Champagny Village: 120 €
Thermal Flight:
Come take you for a bird flying in thermals. Flight time: 30 to 45 minutes *, take-off "Verdons Sud" with a landing at Champagny: 120 €
* Approximate duration, depending on wind conditions.


ESF : take-off from the"Roc des Blanchets"
400 vertical meters: 50€ 950 vertical meters: 85€ 1 200 vertical meters: 90€
Toboggans runs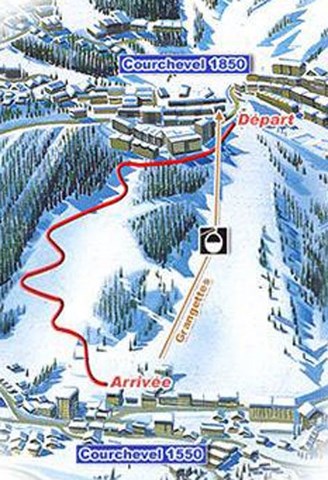 Champagny le Haut :
Accessible via the free shuttle to the village. Area dedicated to luge: 2 side corridors to go up, 1 small central track to enjoy the joys of sledging!
Courchevel 1550 (16km far from Champagny en Vanoise) :
Come 1550 (faster & easier access to park) and rent your sledge, taking the gondola Grangettes you arrive at 1850 from the track.
2km long with 300m of vertical drop and 15% average slope, the track is fully lit from start to finish and allows the practice of sledging by night. Accessible from 14 years (8 years if accompanied).
Open from 9am to 7.30pm 9€/pers./passage
Good deal: free evening after the closing of the ski area (around 5pm)